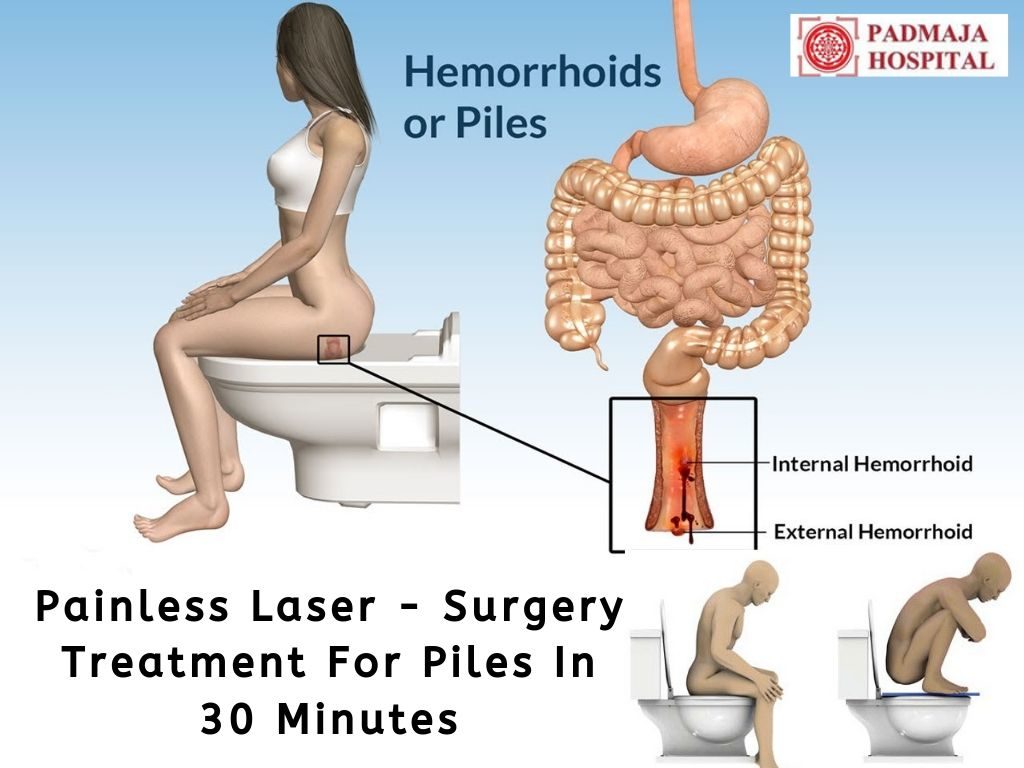 Piles Treatment, Piles Hospital– Hemorrhoids
Surgery and Painless Treatment Required
Laser treatment provided
Painless procedures
No hospitalization required
Doctor available
Very experienced and qualified doctors
*** 20% Cost – Pay EMI (Monthly) Available – Health Insuresnce Available ***
Difference between Pile Treatment Surgical and Non-Surgical (Laser)
SURGICAL (OPEN METHOD)
Invasive – Cutting the wound with a blade
Blood loss
Very painful,
Hospitalization for a few days of custody
Getting dressed for a few days
Bed rest required
Possibility of repetition
NON-SURGICAL (LASER)
Non-invasive procedure
No blood loss
less painful
Day care procedures No getting dressed
Best rest not required
Quick recovery
No repetition
What are hemorrhoids or Treatment of Piles Treatment?
Hemorrhoids, commonly known as hemorrhoids, are conditions in which the veins of the anus and lower rectum become swollen and dilated. Depending on their location, hemorrhoids can be classified as internal or external, depending on whether they are in the rectum or under the skin around the anus. Hemorrhoids are very common and about three out of four adults may eventually suffer. Padmaja hospitals offer some of the best treatments for participations in Hyderabad.

Dr. ( Prof ) G. Amar Raghu Narayan MS (Gen Surgery), M.Ch (Plastic Surgery) (NIMS) Consultant Plastic & Cosmetic Surgery Department Of Plastic & Reconstruction Surgery Plastic Surgeon, 21 Years Experience

What are the symptoms of hemorrhoids or piles Hospital?
Common signs and symptoms of hemorrhoids include:
1.Without bleeding during bowel movements
2.Itching in the anal area
3.Golden bread discomfort in the anal area
4.Presence of a painful or painful mass near the anus
5.Swelling around the anus
What are the causes of hemorrhoids or Piles Laser Treatment?
Stretches or pressure in the veins around the anus may cause them to swell or 8.swell and cause hemorrhoids. This can be for the following reasons:
1.Thinning of the skin due to aging
2.Anal sex
3.Excessive tension during bowel movements
4.Sitting on the toilet seat for a long time
5.Low fiber diet
6.obesity
7.pregnancy
8.Repeated episodes of diarrhea or constipation
Who is threatened with gold hemorrhoids and Piles Treatment?
The probability of accumulation of golden hemorrhoids is high
Do you have a family history, especially your parents?
Postural pressure from sitting or sitting for a long time can lead to hemorrhoids.
If you do not know why you have batteries, our doctors can explain why. Padmaja Hospitals is an experienced gastroenterologist in Padmaja Hospitals.
Pile treatment?
Stop suffering in silence We officially ended the old methodology. Surprisingly, this is a common condition that can be resolved efficiently and always within the given deadlines.
How to prevent and treat golden hemorrhoids or Piles Treatment?
The most effective method of preventing and treating hemorrhoids is to avoid hard stools. Some of the precautionary measures that can be taken to prevent hemorrhoids are:
1.High fiber diet
2.Drink lots of fluids
3.Avoid stool efforts
4.Avoid keeping the chair too long
5.Exercise regularly
6.Avoid sitting for a long time, especially on the toilet seat
7.Light hemorrhoids can be treated with creams and suppositories for prescribed 8.hemorrhoids. Ice packs help reduce bread and swelling.
To learn more about the best hemorrhoid treatments and operations in Hyderabad, you can request a call and answer your questions.
Disclaimer: "The content of this publication has been compiled by a third party The content of this article has been compiled by clinicians and / or authors and / or medical experts. to provide you with information on medical care.
Contact Info
MIG 15-25-527, Road Number 1, Phase I & II, KPHB Colony, Kukatpally, Medchal District
Landmark: Near GHMC Ground Hyderabad Ph : 040 49108108, www.Padmajahospital.in